Oldham chairman Frank Rothwell hopes history doesn't repeat itself after his cheeky dig at Dorking on the day of being unveiled.
In front of the club's supporters, he questioned the locality of Dorking, who are based in Surrey, South East England. The two sides face each other on Saturday.
In the video clip which got thousands of views and got many talking, Rothwell can be heard saying: "When Dorking come here…" "Who?" "Does anyone know where Dorking is?"
Now reflecting on that moment, he hopes his comments will not backfire, and that history will not repeat itself.
"When Dorking come here…"

"Who?"

"Does anyone know where Dorking is?"

New Oldham chairman Frank Rothwell with a message for newbies Dorking ahead of their first season in the National League.

— NonLeagueDaily — By Betting.co.uk (@NonLeagueNews) July 28, 2022
He said this week: "The first game, the home game is against Dorking, and I made a terrible mistake at the press conference.
"I said, 'Does anyone know where Dorking is?!' – Now in 1972 3 or 4, Coventry, who were in the First Division back in them days, drew Rochdale, and the manager for Coventry says, 'Rochdale? Where is Rochdale?!'.
"That drew annoyance with Rochdale and he came up to Rochdale's ground to have a look at it and said 'I will not be playing on that! Those floodlights, my players won't be playing under those. So they played on the Tuesday afternoon instead of Tuesday night and Rochdale won.
"The underdogs won and were bottom of the fourth division at the time, so I hope I've not slipped up there."
Meanwhile, Oldham have seen 2,100 supporters take up the 'early bird' offer, to add to the 1,600 purchased under the old regime, making for a total of 3,700 season ticket holders so far.
Rothwell says it's opened his eyes into how much his side's supporters had feared for their club.
"I didn't know what to expect really. I just thought I'd be the bloke who owns the club, I didn't think there would be such emotion and such support," he said.
"To sell 3,700 season tickets before the first home game, that's something special.
"I'm so happy about that. And we've sold another 2,298 matchday tickets, and we're not there yet.
"People might be looking at the weather and think 'it might be nice to go to the football'.
"It's normally cold here so they will be able to come and see Oldham in the sunshine."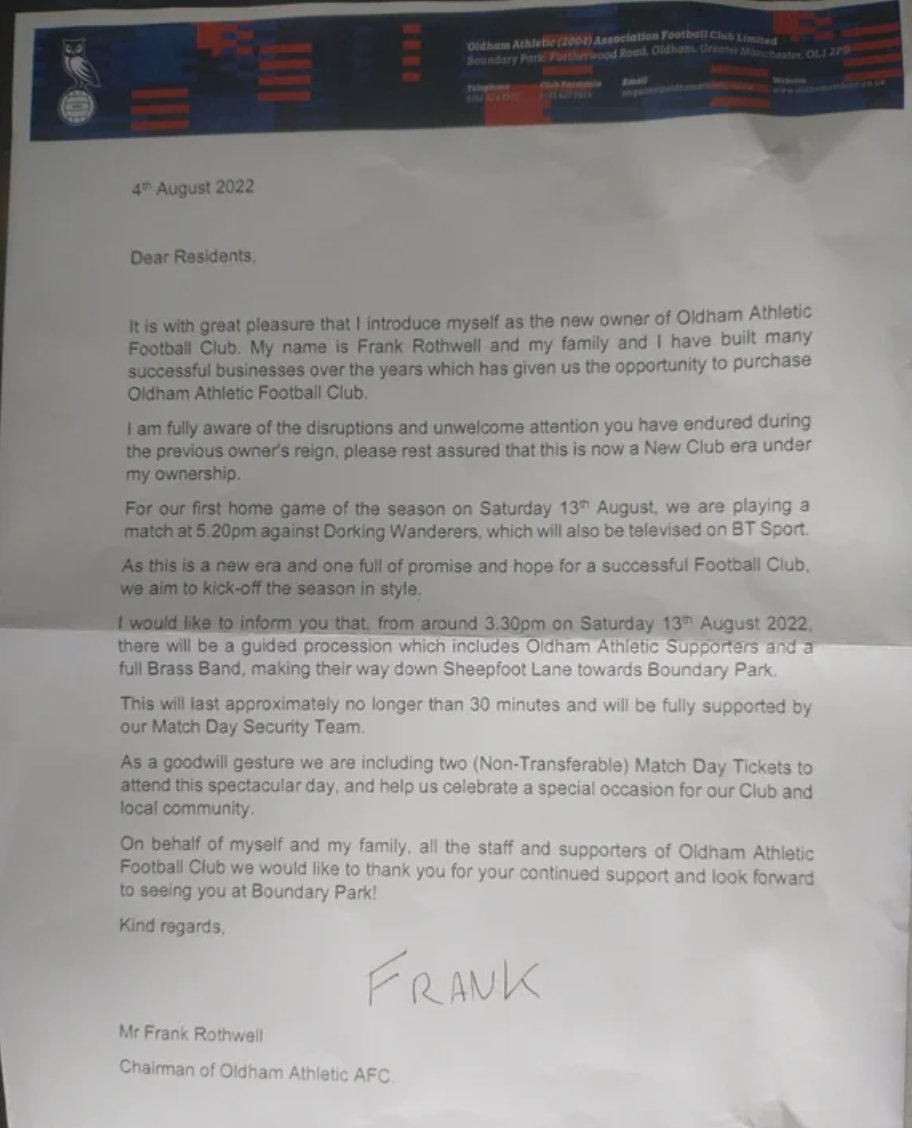 Rothwell wants a bumper crowd for the first home game of the National League season, and that could be boosted thanks to the gesture and community spirit.
"These people are going to get noise for an hour so I thought 'what can I do?' We've given everyone on Sheepfoot Lane, Furtherwood Road and the houses behind that get traffic coming backwards and forwards all day, so we made a gesture to those people," Rothwell explained.
Frank welcomes new era banners but does not want signage to mention the past, commenting: "What has happened previously is now history. Don't dwell on it, let's move on together. We are on a new journey and in a new era.
"We have a good, strong squad who want to win and a first-class manager who we all love.
"We want a really good overhead photograph of our procession so any Oldhamers who are not there will wish they had been part of this marvellous celebration.
"I want readers of all the Sunday newspapers to think, with this level of love and support, Oldham Athletic will not be in the National League for long.
"There must definitely be no flares or any other fireworks. I want plenty of singing, banners and flat caps, both on the procession and in the ground. However, I do not want to be responsible for anyone getting hurt at our club. If you see someone with a flare, please send me a photograph of the person responsible.
"We will have the world watching us on BT Sport, so let's be orderly, respectful to everyone and some good-natured fun will not go amiss either.
"Make sure you record the television reports so you can watch our procession when you get home over and over again, and be proud to be a Latics supporter!"
Match tickets are available to buy online or in person at the Ticket Office in the Main Stand, off Furtherwood Road.